Blackstone Tabletop Griddle: Great Portable Griddle For Camping
With the Blackstone Tabletop Griddle, cooking is as simple as rolling into the campsite, hooking up the propane tank, and you're ready to cook. It's that easy.
Performance
With a surface area measuring 15.25 inches deep by 18 inches wide, the Blackstone Griddle has 260 square inches of cooking space. It's powered by a one-pound propane tank and equipped with an electric igniter for fast heating. It also has a built-in grease catcher for no hassle clean up.
Getting right into it, we're pretty happy with the way it distributes heat. Beneath the hot plate is an H-style burner — it's called "H-style" because it's shaped like a capital "H." Comparatively, most other griddles use two burners.
Starting it is as easy as twisting a knob. For heat distribution, it pumps out 12,000 BTUs, which is perfect for just about anything you want to cook from a dozen eggs to nine pancakes to a few searing steaks.
In addition to a generous amount of space, the cooking top is very heavy. It's cold-rolled steel, so it's durable and will last a long, long time. Overall, the entire griddle weighs about 25 pounds.
In the front left corner, it has a small hole that serves as the oil trap and then the entire front has a little ridge. Beneath the hole is the grease catcher, which you can slide in and out to dispose of the grease.
Blackstone Table Top Griddle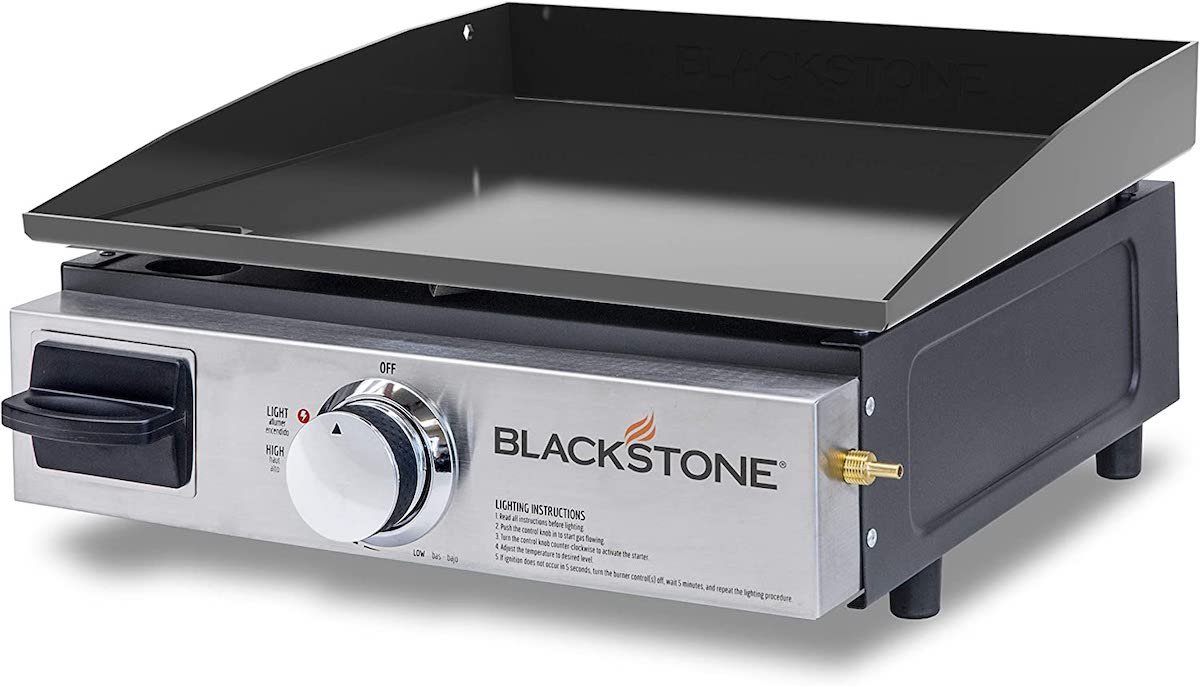 Specs & Features
Uses an electric igniter, fueled by one-pound propane tank, and has a built in grease catcher
Grill space measures 15.25×17-inches, so it has a 260-square-inch cooking surface
Retail Price: $199.99
Overall, we loved cooking with the Blackstone Table Top Griddle. It's super easy to pack, use, and clean. You can buy it on Amazon for about $200.
Source: https://outdoors.com/blackstone-17-inch-table-top-griddle-review/