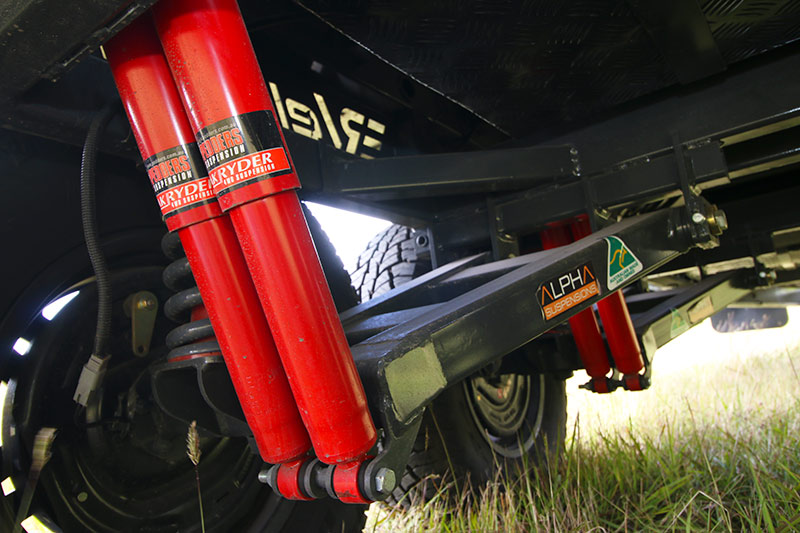 If it's an offroad or even a semi-offroad caravan, there's a good chance it will have independent coil suspension. For good reason.
Independent coil suspension absorbs massive forces imposed by varying road conditions. If it can't do that reliably, it isn't worth the steel it's made from.
Alpha Suspensions has developed a range of Australian-made independent suspension systems catering for trailers of all shapes and weights from 1600kg to 4400kg.
A quality suspension setup will comprise components tuned to suit the weight and intended use of the caravan. To that end, Alpha has produced the Ultra semi-offroad system as well as the Extreme offroad system. Both are independent coil systems with trailing arms, offering points of difference worth considering for your next caravan/trailer purchase.
In terms of ride comfort, a quality coil setup should efficiently absorb the vibration, gravitational and impact forces from the road. And while leaf-spring systems have their place, a coil setup rides better – the spring rate can be controlled more accurately, with the dampening done hydraulically in a shock absorber instead of by inter-leaf friction.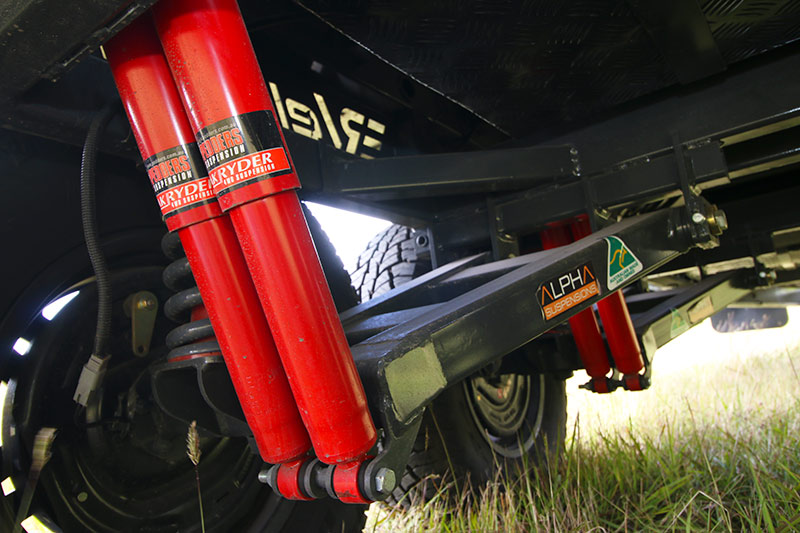 It is essential that a coil suspension system maximises friction between the tyre and road surface, maintaining that contact consistently.
To achieve all of this, Alpha Suspensions has designed its independent coil systems so that there is almost a 90-degree angle between the control arm and the dual Pedders shock absorbers at ride height. This, according to Alpha, is the ideal angle for a comfortable, predictable ride.
Alpha has also developed its own bump stops. Essentially, bump stops are designed to regulate the travel of the trailing arm assemble and serve as a cushion should the suspension bottom out, preventing metal from hitting metal. Alpha's unique top bump stops not only help to protect the spring but prevents the shock absorbers from damage (popping out, etc.).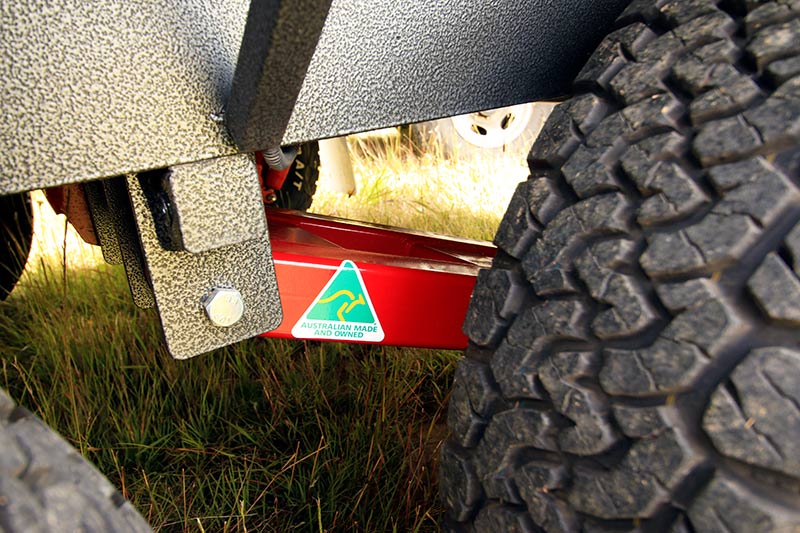 Independent coil suspension systems generally offer increased ride height and centre ground clearance, and because coil springs are not rigidly fixed to the chassis, there is greater scope to adjust and customise the suspension geometry. Alpha Suspension's design – seen on both the Ultra and Extreme systems – includes the ability to adjust toe alignment (the extent to which tyres 'lean' inwards or outwards when viewed from above) as well as the camber (the inward or outward angle of the tyre when viewed from above). The adjustment mechanism features a double-locking feature; however, it's worth noting that adjusting toe and camber should be left to the experts.
The suspension does not just hold up the van; it has to control the body of the van in dynamic conditions. One final feature found on Alpha suspension systems is the minimal overhang of the trailing arm at the stub axle – again, it's about delivering a stable, predictable ride.
ULTRA FOR SEMI-OFFROADERS
Alpha's Ultra setup is designed for semi-offroad conditions – national parks, some gravel undulations, etc., rather than the worst that Cape York could throw at it.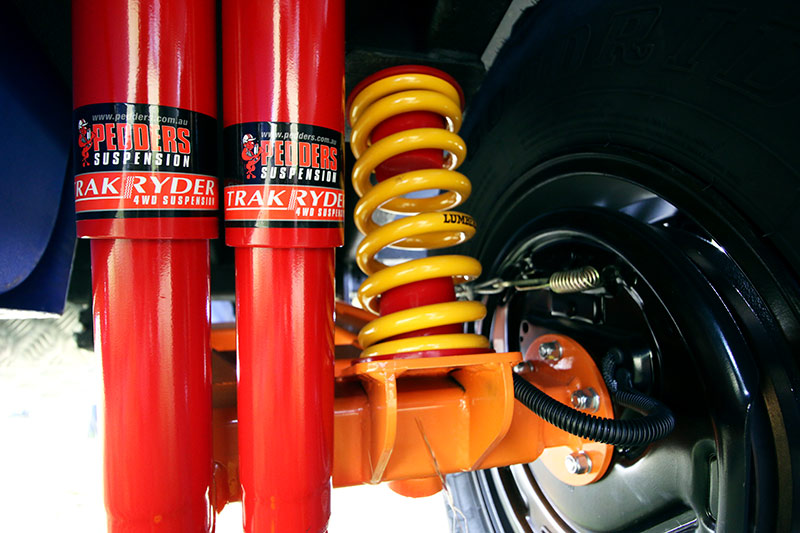 It is available in a few different capacities. For single-axle vans, Alpha has a setup rated to 1600kg, so while you won't necessarily find it on a full caravan, it's a popular choice for camper trailers and smaller hybrid vans.
For caravans, the Ultra system is available in weight ratings up to 3300kg (tandem-axle with 10in brakes), and 3500kg (tandem-axle with 12in brakes).
EXTREME BY ALPHA SUSPENSIONS
Extreme is Alpha's offroad suspension system. It is available in a weight rating of 2750kg (single-axle with 12in brakes) and up to 4400kg (tandem-axle with 12in brakes).
Alpha's premium suspension system, though, is the Air-Bag Extreme setup, which allows the user to raise or lower either side of the van at the push of a button, with the desired ride height maintained regardless of the load.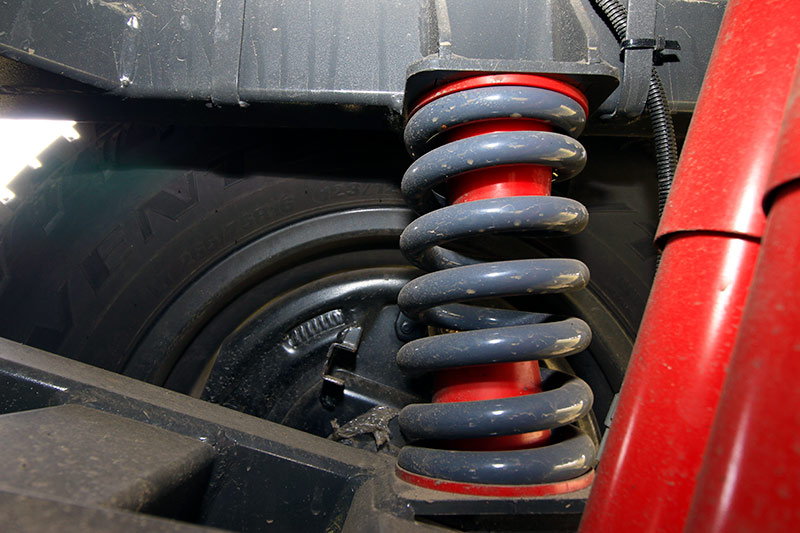 The airbag system is available in four different options: Type 1, which includes external inflation points only; Type 2, which includes an onboard 12V air compressor and remote actuated valves; Type 3, which includes the features of Type 2 plus an air tank and tyre inflation kit; and Type 4, which includes the features of Type 3 plus a self-levelling system for full or semi-automatic control.
This system is also compatible with disc brakes rather than the standard drums found on most caravans.
Finally, while the Air-Bag Extreme system includes a control panel for setting the desired pressure in each airbag, Alpha has developed a smartphone app for this too.
SUMMING UP
A vehicle or caravan's suspension system is often overlooked. The truth is, almost no other component matters more. Alpha Suespension's range is not only made in Australia, its systems are often fitted to 'tradie trailers', which are used every day on various types of terrain and potentially do thousands more kilometres in a year than the average caravan.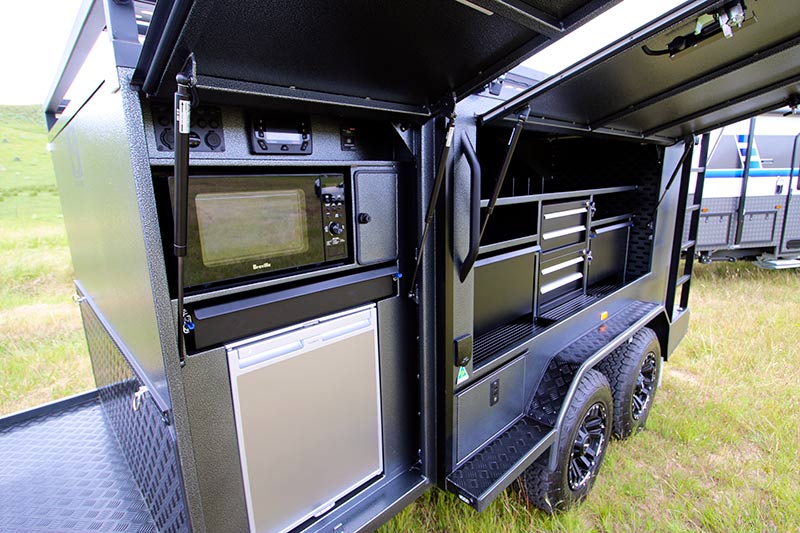 Australia is fortunate to have a number of quality caravan suspension manufacturers – Alpha Suspensions is clearly one of them.
More information: https://www.alphasuspensions.com.au
The post Alpha Suspensions Guide appeared first on GoRV.