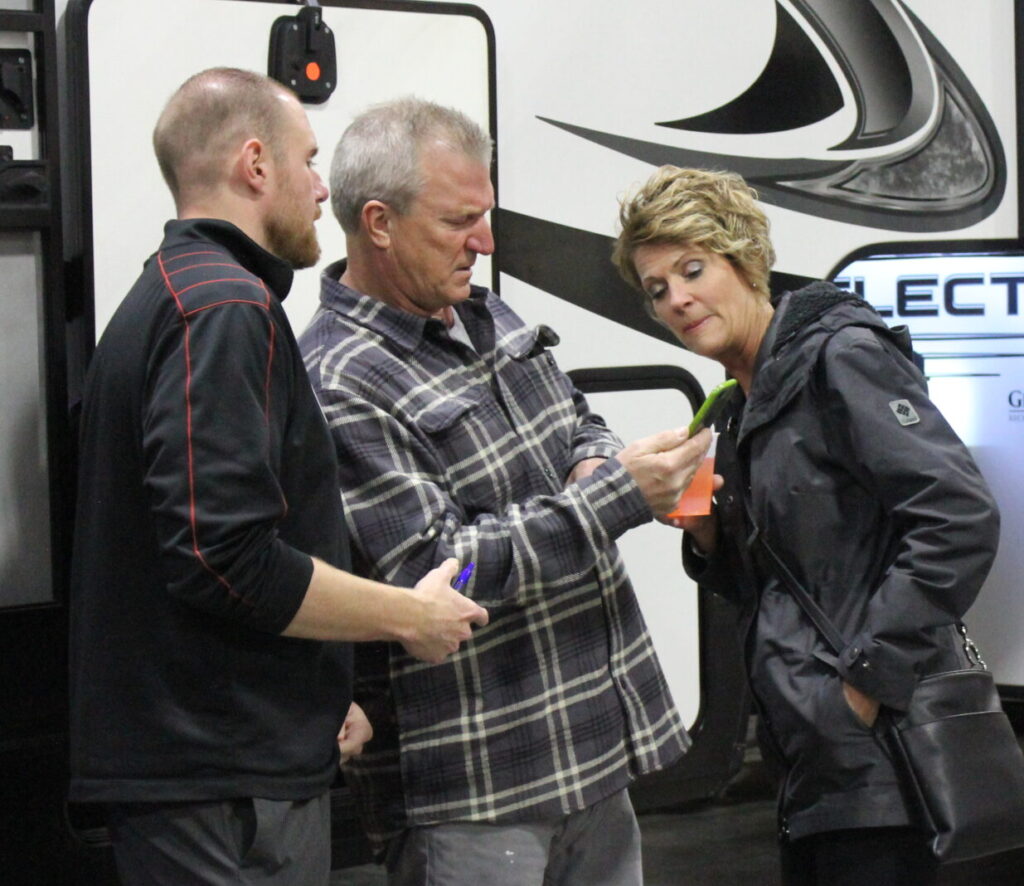 Add Detroit to the mix of consumer RV shows that have reported strong crowds and good if not great sales that, generally speaking, has only buoyed a prevailing sense of optimism for 2023.
The 57th Annual Detroit RV & Camper Show, hosted by the Michigan Association of Recreation Vehicles and Campgrounds (MARVAC), took place Feb. 1-5 at the Suburban Collection Showplace in Novi, Mich. The show featured 15 dealers, 389 RV's and scores of supplier and campground exhibitors.
And, by all accounts, the show was a "resounding success."
"From the moment we opened the doors Wednesday, to the when those same doors were closed Sunday evening, the MARVAC 57th Annual Detroit RV & Camping Show was a resounding success," said MARVAC President John Lindley. "More than 20,000 consumers attended this year's show and feedback from the 15 RV dealerships and 30-plus exhibitors has been 100% outstanding. People are anxious for Michigan's cold winter to end and MARVAC was able to provide a glimpse into the upcoming camping season."
Loren Baidas, president of General RV Center, the Michigan-headquartered dealer group with 14 locations spread across seven states, thought the show was well attended with good traffic.
"It seemed to us that customer sentiment was positive. There was lots of interaction on all types of vehicles. very good show happy with performance of team and products," he told RVBusiness.
When asked whether the Detroit Show and others at which General RV has exhibited bodes well for 2023, Baidas said it's "hard to predict a few months out at this point given all the uncertainty with economic factors such as interest rates, but we feel customers are still buying. We just need to meet them at certain price points so its beneficial for them to make the purchase. But they're still walking through the doors, kicking the tires and asking all the right questions."
Josh "The RV Nerd" Winters of Bish's RV, a dealer group with 21 locations across 10 states, said the show certainly met the dealer group's expectations.
"But we walked in with some pretty lofty expectations, so that was certainly not a letdown," Winters told RVBusiness. "For me personally the highlight was the crowd turnout for my little tech talks. The crowds were outstanding – and for sure it was the best yet for me. One thing I'll say that was pretty cool was people were climbing into the RVs on either side of my seminar space and then opening the windows so they could watch and listen. That was a first for me.
Another highlight, he added, was Bish's RV was able to be the first dealer to display Ember RV's new Touring Edition line. Despite some doubters, he said Bish's was able to sell more than a handful of the premium travel trailers.
"Probably the biggest highlight of the show was just how encouraging the signs were for this year," Winters said. "We were selling not just cheap stuff and not just expensive stuff, but a good mix of everything. In my time I've always seen that as a strong indicator of good things to come."
Echoing those comments was Brendan Aukerman, an aftermarket sales representative for MORryde, Elkhart, Ind., who singled out the good attendance in Detroit as one highlight. He said people seemed to be most interested in the company's X-Brace Stabilizer, Safety Rail and Latch Extender products.
"It was a good show, although it's tough to compare to compare to the last few years because of the boom. Still, it was a very good show. It sure seemed like stronger than average attendance," he said. "On the aftermarket side, it did seem like attendees were just window shopping more this year than in year's past, But, still, we had a really good show.
Aukerman added that he thought most people he talked to were at the show purchase a new RV more so than upgrading their current one. Based on the Detroit show and others – including Quartzsite and Tampa – he said the aftermarket segment of the industry is looking at a very successful 2023. "These have been some of the best shows we've ever head. All the shows we've done have been very positive. So, in the aftermarket I'm extremely optimistic for this year," he said.
Matt Veurink of Veurink;s RV in Grand Rapids and Newaygo, Mich., told RVBusiness the show was "pretty good."
"Traffic felt like it was pretty steady and people were out looking to buy. We were seeing good sales on higher end fifth-wheels and some good action on teardrops and lightweight units," Veurink said. "We've had two shows and for both the results pretty much on par with last year – and last year was good year. I'd say the market is still slightly down, but its' going to be up from where we used to be. The industry has grown in the last couple of years due to COVID. And even though interest rates gone up a bit, RVs are still affordable and people can still afford the camping lifestyle."
Source: https://rvbusiness.com/57th-annual-detroit-rv-show-called-a-resounding-success/