5 Incredible Tent Camping Spots in Key West, Florida
With varied terrains ranging from exotic coastal patches surrounded by turquoise waters to tropical canopies surrounded by palm trees, Key West is home to some of the most amazing campsites that deliver panoramic views, stunning sunsets, and endless fun experiences. So, pack your bags, grab your pals and let's dive into the awesome world of camping in Key West.
Sugarloaf Key
Where can you find it: Sugarloaf Key is located in the lower Florida Keys, in Monroe County, between mile markers 17 and 20 on the Overseas Highway (US Highway 1).
Why it's a favorite destination: With stunning waterfront views, Sugarloaf Key has an array of outdoor activities for the whole family to enjoy. You can go paddleboarding, swimming, or snorkeling in the crystal clear water of the Florida Keys or if you prefer something more relaxed, you can go fishing, kayaking, and even birdwatching. And don't forget the mesmerizing sunset views with a bonfire on the beach; talk about relaxing!
Other things to explore: A notable attraction on the island include the Sugarloaf Lodge, a historic hotel that has been in operation since the 1950s. The lodge was frequented by famous writers such as Ernest Hemingway and Tennessee Williams. The lodge architecture and scenic location along the Atlantic Ocean is a must see.
Sugarloaf Key
251 Co Rd 939
Sugarloaf Key, FL 33042
Camping Fees: $54+ per night plus tax
Dry Tortugas National Park
Where can you find it: Dry Tortugas National Park is located 70 miles west of Key West, and can only be reached by boat or seaplane, which makes it an ideal spot for those who are looking for a remote camping experience.
Why is it a favorite destination: Those who love to rough it out may find a more challenging adventure at Dry Tortugas. This isolated and rugged wilderness is accessible only by ferry or seaplane, and its campsites can only be reached after hiking through the island's cactus-lined trails. However, the reward for braving the trek is a unique and jaw-dropping camping experience, with starry nights and immaculate waters that are perfect for kayaking, snorkeling or paddleboarding.
Other things to explore: With no light pollution, Dry Tortugas is an excellent place to stargaze, and visitors can enjoy the Milky Way and other celestial bodies in a way that's impossible in most urban areas. Although the highlight of Dry Tortugas National Park is hands down Fort Jefferson, which is one of the largest forts in the world. The fort is a sight to behold, with a stunning brick wall encompassing the entire area; it has been standing since 1846.
Dry Tortugas National Park
40001 SR-9336
Homestead, FL 33034
Camping Fees: $15+ per night plus tax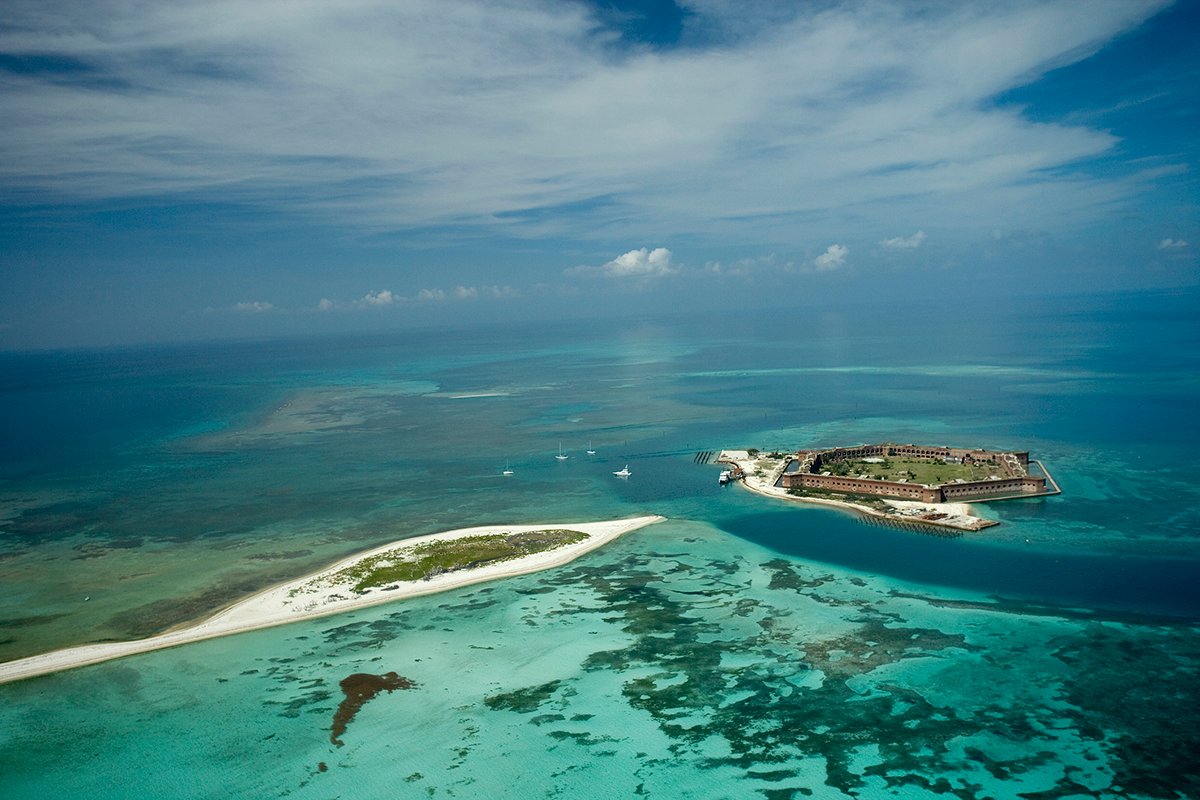 Boyd's Key West Campground
Where can you find it: Boyd's Key West Campground is located at Mile Marker 5 which puts you about 3 miles from the heart of Old Town KW/Duval Street.
Why is it a favorite destination: For those looking for a more upscale and luxurious camping experience, Boyd's Key West Campground offers a range of facilities to keep even the most pampered of campers comfortable. The site features modern amenities like hot showers, internet access, and cable TV, but it also provides a range of activities such as kayaking, fishing, and swimming. Additionally, the site is situated within the iconic Stock Island, which is a crowded hub of entertainment at night where you can experience the vibrant culture of Key West.
Other things to explore: Boyd's allows visitors to engage like never before. This unique campground offers so much more than your traditional activities, each month they provide a calendar of events that range from arts and crafts, sunset sails, field trips to the historical seaport, as well as the botanical gardens. Boyd's also offers their campers live music in their pavilion and movie night. Boyd's has spared no expense in making sure their visitors feel like family, and have everything their hearts desire. When their campers depart they always leave wanting more, and looking forward to their next visit!
Whether you're looking to unplug from the rest of the world or seeking exploration in the great outdoors, the camping spots in Key West offer endless options to explore and indulge in the awe-inspiring beauty of Florida's tropical paradise. Pack your bags and get ready to embark on a journey to some of the coolest and most thrilling ten camping spots in the world.
Boyd's Key West Campground
6401 Maloney Ave.
Key West, FL 33040
Camping Fees: $65+ per night plus tax
Long Key State Park
Where can you find it: Long Key State Park is located approximately 60 miles east of Key West and is situated in the middle of the Florida Keys.
Why it's a favorite destination: Long Key is an idyllic destination that will give nature lovers and outdoor adventure seekers an unparalleled chance to experience the best of what Mother Nature has to offer. From the rugged prairies to the crisp clear waters of the nearby river, this stunning park promises a unique and memorable adventure for all who have the privilege of visiting its impressive wilderness. For those wanting a true wilderness experience, Long Key State Park offers a plethora of facilities and amenities that cater to both seasoned and beginner campers alike. With an abundance of campsites to choose from, visitors can rest assured that they will find the perfect spot to pitch their tent and relax in the warm glow of a roaring campfire.
Other things to explore: And there's even more, with its long and storied history, Long Key State Park is also a fascinating destination for those interested in learning about the area's rich cultural heritage. The park has a number of guided tours and educational programs that provide insights into the lives and traditions of the indigenous tribes that once roamed the land and the pioneers who settled the area.
Come and experience the wonder and magic of this special destination for yourself, you won't be disappointed.
Long Key State Park
67400 Overseas Hwy.
Layton, FL 33001
Camping Fees: $22.50+ per night plus tax
Curry Hammock State Park
Where can you find it: Curry Hammock State Park is an expansive park located in the stunning Florida Keys. It is situated on the island of Marathon, which lies within the Middle Keys chain of islands. The park covers a vast area of 1,200 acres.
Why it's a favorite destination: The park delivers a striking wide range of activities and sights to enjoy, ranging from hiking trails that run through the mangrove forests to beachfront campsites that deliver exquisite views of the Atlantic Ocean. Curry Hammock State Park isn't just a place to spend time in the great outdoors; it is also imbued with rich history and culture. The park's museum captures the unique heritage of the Florida Keys, showcasing the natural history of the region while exploring the cultural contributions of its native people.
Other things to explore: What truly sets this park apart, is the various flora and fauna. The park is home to remarkable wildlife, including migratory birds, sea turtles, and colorful marine life. Visitors have the opportunity to witness the beauty of these creatures firsthand through a variety of engaging programs and exhibits.
All of these features are further enhanced by the park's commitment to eco-friendliness, with sustainable practices at the forefront of its operations.
Curry Hammock State Park
56200 Overseas Hwy.
Marathon, FL 33050
Camping Fees: $36+ per night plus tax