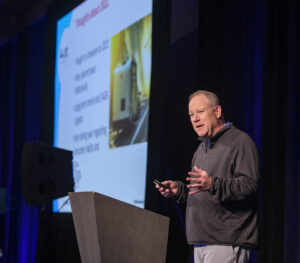 [embedded content]
By all accounts the 2023 NTP-STAG Expo, the industry's largest aftermarket parts and accessories trade event, was a resounding success.
Marked by an impressive turnout of dealer personnel – final attendance figures were not readily available – the Expo, presented by Airxcel, concluded its two-day run yesterday (Jan. 7) at the Gaylord Rockies Resort & Convention Center in Aurora, Colo.
The Expo featured manufacturer product showcases, RV University / PRO seminars, exclusive promotions, special events and industry networking opportunities. In addition, entertaining and motivational keynote presentations were provided by former NFL coach Brian Billick and former NFL quarterback Joe Theismann.
NTP-STAG President Bill Rogers said he was very pleased with the Expo, adding that he heard nothing but praise from both attendees and exhibitors.
"We opened up the Expo floor and had huge influx of customers – probably more than we've seen in a number of years," Rogers told RVBusiness. "There were a lot of new products in there, it was a good vibe, and I was very happy with the attitudes and overall spirit of the dealers. They seemed more upbeat than I may have thought they were going to be, just given the economic environment."
It's that economic environment – inflation, increasing interest rates and a general unease about the immediate future – that has industry observers keenly interested in the performance of the Expo and various early season consumer shows. Based on the positive reports coming out of recent consumer shows such as Cleveland, Boston and elsewhere, the Expo was another sign the RV industry is headed in the right direction
"The show was good," Airxcel Group President Anthony Wollschlager told RVBusiness. "There was a lot of traffic, which was exciting to see. Obviously, we had a lot of new product offerings that we were showing for the first time in the aftermarket, so the dealer response was great on those products – and then our legacy products as well. So, overall, we're enthusiastic about the response to the show."
Mike Hesse, CEO of Blue Ox, echoed Wollschlager's comments, saying the Expo was "fantastic."
"NTP really stepped up, getting a ton of dealers here," he said. "We've been working on a lot of these converting to Blue Ox, and fortunately, we had great show pricing and we were able to get a number of dealers converted. But it's also just been fun seeing all of our current customers, potential customers, and all of our friends in the industry."
Ron Shepherd, president of Camperland of Oklahoma in Tulsa, said Theismann's presentation was a highlight for him and said the Expo was "very busy."
"As you can see, there's a lot of buzz," he said. "A lot of people are doing a lot better than what they had been doing, and I think they're all glad to be out now that we've were released from the claws of that stupid pandemic. I'm glad that's over. And I think the aftermarket people have got to be extremely happy with what they're seeing here. I know there's been other shows in the last couple of weeks. But this one, there's no question has to be the biggest."
Shepherd added that his dealership's strategy at the Expo and other distributor shows is to seek out the show-only discounts.
"We shop for the deals," he said. "We're looking for bigger quantities. For instance, the guys are putting together an air conditioner order right now, and we buy our air conditioners that will take us through to the first part of the summer. So, we buy a bunch, and we negotiate and get a good price. Even if we've got to put them in a container, we'd rather have our container than wait for one that's sitting in the Pacific Ocean."
Taking a different approach was Luke Holman, the owner and fixed ops manager of Holman Motors in Batavia, Ohio, which is near Cincinnati. Mentioning that the Expo's the attendance was the best it's been in the last four or five years, he said he comes to the Expo looking for "lifestyle" products.
"I already have all of my orders in the bank for the caulk and toilets and all that. That's been in the cart for a week and a half now," Holman said. "I'm here to find those things that make customers come in my parts department for the same reason they go into a Camping World parts department. They're not in a Camping World parts department because they're selling you a part to fix your camper. They're selling you camping. And that is what most of us dealers have forgotten to sell.
"We can fix your camper like there's no tomorrow, but we forgot to sell camping," Holman continued. "None of our parts stores scream 'Let's go camping.' That is the one thing that Camping World has done better than all of us. They sell camping way better. They don't sell campers better. They don't sell service better. They don't do parts better. But they sell camping better. And frankly, that's what the customer's there for."
Industry veteran Yvonne Addington had a bit of a different perspective on the show.
Despite working in dealerships for years and currently being everything from a service technician to an administrative assistant at Holiday RV in Poncha Springs, Colo., Addington was attending her first-ever RV trade show.
Many of the things regular attendees take for granted, Addington said she found exciting and refreshing.
"It's just awesome that they have so many vendors get together and show their wares in one spot," she said. "I can, for example, walk from one faucet supplier to another and look at the features and benefits and costs of each one and compare them and decide what I want based on what I see. What catches my eye are the best deals and best visuals."
One product that she was particular swayed by in person was the line of Weigh Safe hitches. The hitches are built with gauges that display the tongue weight being placed upon a hitch.
Addington said she had been approached about carrying the products before, but didn't see the benefit to offering them. Seeing them in person and having a representative explain things led to her placing an order for her dealership, she said.
Source: https://rvbusiness.com/2023-ntp-stag-expo-by-all-accounts-was-huge-success/