10 Best Spots for Tent Camping by the Beach in Florida

With around 1,350 miles of coastline and hundreds of campsites, Florida is a great vacation spot if you like camping on the beach.
There's a lot to recommend about beach camping: lying under the stars listening to the waves on the shore; enjoying the heat radiating from the sand; the privacy of the dunes; and the sound of the wind through the grass.
With an amazing climate, an awesome series of state parks and all that coastline, Florida is the perfect spot for a little beach camping.
First, let's cover some basics.
Can you camp anywhere in Florida?
Yes and no. There are hundreds of places to camp in Florida including by the beach.
But, you can't just pull up and pitch up wherever you like. You'll need a permit or a proper campsite.
A little research goes a long way for potential pitches!
Many beaches in the state are privately owned and won't usually allow camping unless it's in a campsite.
Publicly owned beaches often allow camping but close to the beach, not on it.
There are lots of free campsites around the state and many more paid campsites. Prices will vary but will typically cost less than $50 a night for a tent. More for an RV or campervan.
Camping on the beach itself isn't usually permitted and is a little dangerous anyway because of tides.
There are plenty of places you can camp in the dunes or by the beach though so it isn't so bad.
With that out of the way, let's get to those 10 of the best spots to try beach camping in Florida.
Long Key State Park in the Florida Keys, this park has basic campsites along the Atlantic coast. There are around 60 sites in all, many of which are within sight of the beach.
The park has acres and acres of wilderness, coastline, beach, trails, streams, a lagoon and wooded coastline to explore.
The 9 miles of beach always seems empty even when the campsite is full. There's a feeling of calm here that few other places in the world can deliver, which is why we like it so much.
The park is very susceptible to storms and bad weather so we recommend checking before you go to make sure the park is open.
Booking: (305) 664-4815 or go to their website.
Long Key State Park, 7400 Overseas Highway, Long Key FL 33001
Anastasia State Park in St. Augustine is well known for its lovely white sand and over 1,600 acres of lovely beach, tidal marshes, wilderness and waterways.
Anastasia State Park is popular for watersports as the ocean is ideal for surfing and fishing while the waterways and ocean are good for canoeing and kayaking.
The park also has the Ancient Dunes Nature Trail Loop, a very famous trail that we strongly recommend checking out.
There are 123 campsites here, many of which can cope with RVs. It's a popular place so can get busy at times but there's plenty of space and privacy to be had.
Booking: (904) 461-2033 or go to their website.
Anastasia State Park, 300 Anastasia Park Road, St. Augustine FL 32080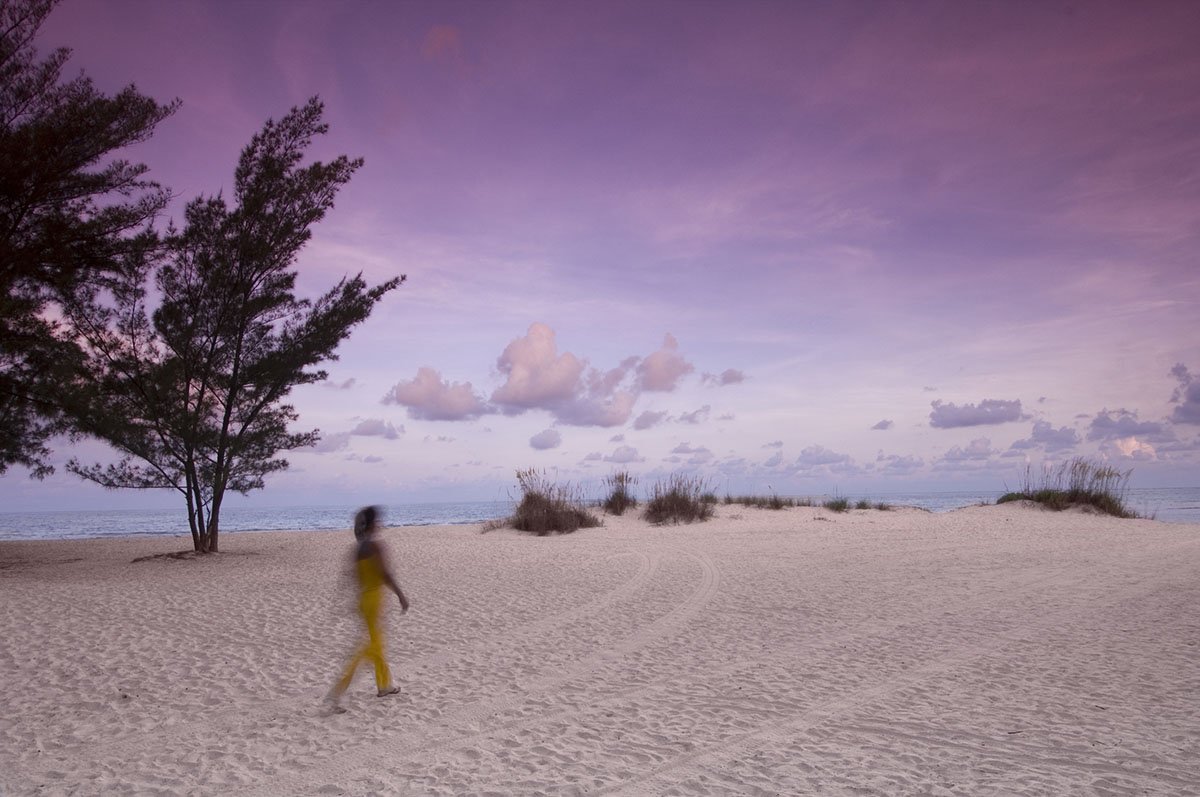 Fort De Soto near St. Petersburg in Florida is another firm favorite for campers. It's a great setup with 238 campsites, sports center, picnic areas, paved trails, parking, grills, fire rings and everything you need.
The area gets very busy as Fort De Soto is one of the most popular campsites in the state for both tent campers and RVs. Fortunately, there's enough space for everyone.
This isn't a park to roll up and pitch, you're going to need to book in advance to secure your spot.
In return you get plenty of wooded wilderness to explore, miles of sandy beaches, easy access to town and amenities and epic views wherever you pitch your tent.
Booking: (727) 582-2100 or go to their website.
Fort De Soto Campground, 3500 Pinellas Bayway South, Tierra Verde, FL 33715
Fort Clinch State Park on Amelia Island is a barrier island resplendent with lovely beaches, golden sand, calm waters and some amazing sunsets. It's an idyllic place to camp in Florida.
There are 68 campsites, many with amenities. There's also a half mile fishing pier, 6 miles of trails, 3 miles of pristine beach and access to other islands and beaches in the region.
Then there's the fort itself, one of the best-preserved 19th century forts in Florida, which is quite a draw for visitors.
This is another popular park, not quite as busy as Fort De Soto but you should book your pitch just to make sure you get your spot.
Booking: (904) 277-7274 or go to their website.
Fort Clinch, 2601 Atlantic Avenue, Fernandina Beach FL 32034
Sebastian Inlet State Park on the east coast is known for surfing and fishing. It is regarded as one of the best places for both in Florida, which means it can get very busy during vacation season.
The park has 3 miles of beach with the campground a short walk inland. It has plenty of space and some amenities for both RVs and tents.
If you're not into fishing or surfing, you might like Indian River Lagoon as it's very popular with canoeists and kayakers.
Otherwise, roll up after a storm and comb the beach for treasure. Coins and all sorts are washed up from the ancient Spanish treasure fleet that sunk offshore after bad weather.
Booking: (321) 984-4852 or go to their website.
Sebastian Inlet State Park, 9700 South Highway A1A, Melbourne Beach FL 32951
Tomoka State Park near Daytona is popular with campers that like a little peace and quiet. It's not as popular as some of these other camping spots but still delivers the Florida experience we look for.
The main campsite is nestled just inland and is a short walk from the beach. It has some amenities, water, waste, electricity, grills and picnic area.
There are also some barebones campsites with no amenities. These tend to be quieter, with fewer families and can be a nice way to get some peace and quiet during high season.
The park also has hiking and biking trails, fishing, kayak rentals and plenty of wilderness to explore, as well as miles of beach.
Booking: (800) 326-3521 or go to their website.
Tomoka State Park, 2099 N Beach St., Ormond Beach FL 32174
Turtle Beach is on the Gulf coast and is a smaller campsite that punches way above its weight.
This is another very popular campsite so we recommend booking your spot to avoid disappointment. In return you'll get a laundry, bathrooms, WiFi, a kayak launch and onsite staff to help with anything you need.
There's a mix of RV and tent camping here but the pitches are relatively modest, so larger RVs might struggle to park.
Pitches don't have an ocean view as they are nestled a little inland. The beach is only a couple minutes' walk away though.
Booking: (941) 861-2267 or go to their website.
Turtle Beach Campground, 8862 Midnight Pass Rd., Sarasota, FL 34242
Grayton Beach State Park near Santa Rosa Beach is also on the Gulf coast. There's a lot to see and do here as well as miles of lovely white sand.
This is a very family-friendly campsite that has lots of activities and events. It's also accessible so is ideal for anyone with extra needs.
There are nature trails, boat launches, cabins, picnic areas and the occasional exhibit or display to check out too.
Grayton Beach State Park also gets busy at peak times so is another beach campsite in Florida we recommend booking before you leave!
Booking: (850) 267-8300 or go to their website.
Grayton Beach State Park Campground, 357 Main Park Rd., Santa Rosa Beach, FL 32459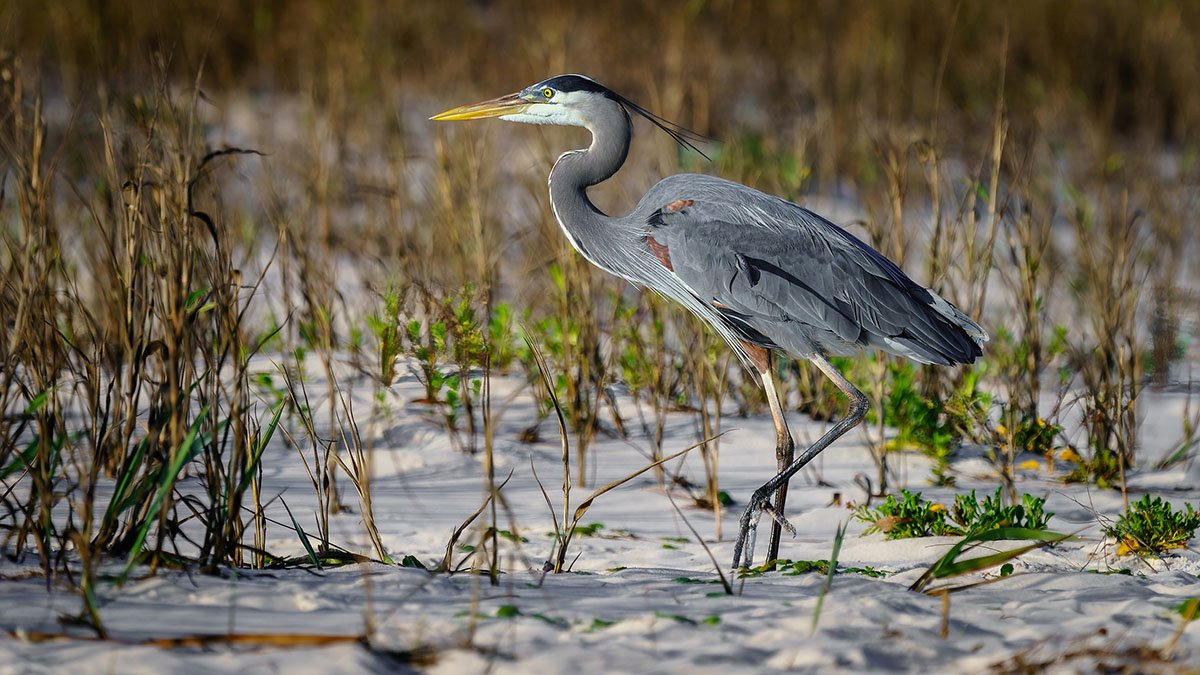 Fort Pickens delivers the Key lifestyle without the Key prices. It's on Santa Rosa Island not far from Grayon Beach and offers the island experience at much more affordable prices.
Fort Pickens is a large campsite with 140 RV and 40 tent pitches. It's another family-friendly site with specific group camping pitches, amenities, power hookups and other amenities.
You're not on the beach here, but you're close to it and you should be able to hear the surf from your pitch.
As Fort Pickens is close to Pensacola, there's plenty to see and do but also plenty of competition for pitches. This is one site you definitely need to book before you leave!
Booking: (850) 934-2622 or go to their website.
Fort Pickens Campground, 1400 Fort Pickens Rd., Pensacola Beach, FL 32561
Key Largo on the Florida Keys delivers the ultimate camping experience. It's close to the beach, in the center of the Keys and ideal for getting to local amenities.
If you like activities, this site is for you. There are trails, sailing, walking, hiking, biking, scuba diving, skydiving, boat hire and more all in proximity to camp.
There's also a marina, store, clubhouse, lounge, sports courts and activities on site so there's always something to do.
Again you won't be on the beach but there are pitches with water views. We would definitely recommend one of those if you can book one!
Call (305) 451-1431 or go to their website.
Key Largo Kampground, 101551 Overseas Hwy., Key Largo, FL 33037
Booking ahead is essential
Even though we have mentioned booking throughout our list of beach campsites in Florida, it's important enough to mention again.
There are hundreds of places to camp in the state that won't require booking. You can drive up on the day and will very likely get a spot.
However, when you're looking at the best beach campsites, booking is a must.
With staycations being more popular than ever before, more people are staying local and camping. That means you need to plan ahead and book well in advance if you want to stay in a more popular spot.
You'll see locals and people from further afield enjoying the Florida sunshine. If you want to join them on one of the most popular sites, booking in advance is essential!
Turtle nesting season
Be mindful of turtle nesting season when planning your camping trip.
That season stretches between 1 May and 31 October and means no camping on the beach, no fires or lights on the beach and generally being considerate towards these amazing animals.
Most campsites close to turtle beaches will have advisories but they will usually be around lights and noise on the beach during the dark so turtles can find their way back into the ocean.
Even though you may not be able to have a fire on the beach, watching the turtles, from a distance of course, is one of the best experiences you can have in Florida!
Final thoughts on beach camping in Florida
Florida is an amazing place to camp by the beach. With over a thousand miles of coastline and some of the most idyllic sandy spaces anywhere in the world, it's an amazing place to vacation.
It isn't as easy as it could be to camp on the beach but there's plenty of scope to use a campsite.
There are dozens of state parks down the Atlantic coast, in the Keys and on the Gulf coast. Each offers its own unique style, amenities and character.
Some are more family friendly, so will be more suitable to groups or those with children. Other sites are more varied, with a mixture of solo campers, couples and groups.
All are large enough to provide your own space to sit and relax, have a fire, cook on a grill and soak up the beach experience as much as possible.
Source: https://outdoors.com/best-beach-tent-camping-spots-in-florida/